The Italian shirt made for you
The Perfect Shirt
Premium Italian Shirts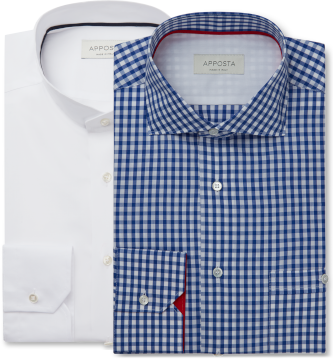 Apposta sells online men's shirts precisely crafted in Italy with four generations of shirtmaking expertise, using premium quality fabrics from the Italian renowed mills.
Perfect fit for customer's style and body
Each shirt is made-to-order: it can be personalised or created online, from the world's largest variety of fabrics (over 4000) and style options, and can be made to measure.
At a fair price
A large scale, direct-to-consumer business model means that the customer pays considerably less for a premium Italian shirt than elsewhere.
Industry-leading customer satisfaction
With an industry-leading 1.7% return rate, we're confident that every Apposta shirt will arrive impeccably made. We also make free amendments if required to ensure that every purchase is risk-free. Our made-to-measure process eliminates the need for multiple size purchases, higher initial monetary outlay, returns and refunds.
Sustainability
Apposta is 100% made-to-order, intrinsically highly sustainable: ZERO stock, ZERO wastes.
Climate and Ocean.
Minimal CO2 footprint because of no wastages, no return deliveries, no plastic packaging, near-shore manufacturing. All fabrics are sourced from responsible companies.
Fair and inclusive work practices.
All of the shirtmakers in our supply chain are based in Italy. They're mostly women, though all receive fair salaries with no pay disparity between genders.
Responsible consumption and production.
Our products are custom made to the customer's needs and are made to last. Replaceable collar and cuffs are offered for further durability. It's the opposite of the widely criticised fast fashion.
Competition
vs Traditional Distributed Brands
- Apposta completely overcomes the limits of the physical distribution, to which traditional brands are bound even if they also sell online: 60-70% of the retail price burnt by the distribution costs, high standardisation, low choice, high stock volumes, lots of wastes, physical proximity.
vs online Direct-to-Consumer Brands
- While the cost structure and end-user prices are similar, Apposta removes the need to buy different sizes and make returns, as shown by our return rate of 1.7% vs the typical 50+%.
vs online Made-to-Order Brands
- Apposta offers the world's widest choice of over 4 thousand billion different shirts, given by the combinations of 4000 fabrics and plenty of style options. Apposta offers a refined, highly appreciate customisation experience. The shirts are expertly made in Italy to high standards, from an experience of 4 generations in the industry.